Eliminate Water Hammer with Slo-Close Plastic Ball Valves
Patented thermoplastic gear driven operating nut rotates 360° to achieve a 90° turn of the ball. The result is slow closure and the elimination of water hammer, while maintaining the positive shut-off and reliable service of a ball valve.
Components and internal gears of the Slo-Close system are molded of durable Acetal material, and the Set screw is 316 SS. The system is mounted on Colonial's Full Block True Union Ball Valve, and Super C Sch 80 Compact Valve, both of which have a proven record of quality in industrial process piping, water treatment, commercial plumbing and irrigation markets for over 30 years.
Valve can be actuated by use of a standard Champion Sprinkler Key wrench, or Lasco's Plastic Slo-Close Valve Key Wrench, for buried applications. Valve can also be operated by hand for any other application. Successfully introduced to the Turf Irrigation market in isolation valve applications, the Slo-Close valve will perform in any industry where the avoidance of water hammer is a priority. Do not use for throttling (in partially open position).
>Three-Year Warranty
Assembled In USA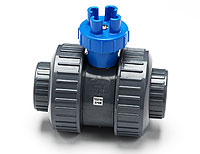 TUBV-SC Series 1″ – 3″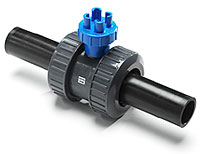 HD-SC 2″ & 3″
Slo-Close Full Block TUBV with HDPE Spigot DR11 End Connectors
HDPE DR11 End Pieces are custom designed and molded for Colonial Full Block TUBV of HDPE 3408 material. They are to be joined  to HDPE pipe using standard butt fusion equipment, electro-fusion couplings, or compression adapters, following equipment manufacturer's recommendations.
>HD-SC Submittal Sheet (pdf)
>HD-SC CAD Drawing (dxf)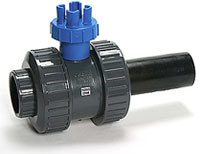 HP-SC 2″ & 3″
Slo-Close TUBV with HDPE End X PVC
The HP-SC configuration allows a transition point from HDPE to PVC in the piping system. For example, if Golf Course headers are HDPE, but laterals are PVC, you can use the HP-SC valve to transition on the lateral isolation valves. Each valve comes with an HDPE spigot end connector, and one each of a PVC Socket and a PVC FIPT end connector.
>HP-SC Submittal Sheet (pdf)
>HP-SC CAD Drawing (dfx)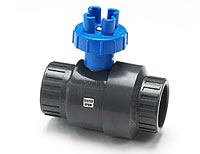 Super "C" – SC Series
Certified to ISO 9001:2015
Customer Service (toll-free):
800-374-0234
National order fax (toll-free):
866-879-5982 or 269-323-0630